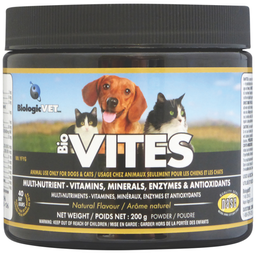 BioVITES Pet Supplement (200g)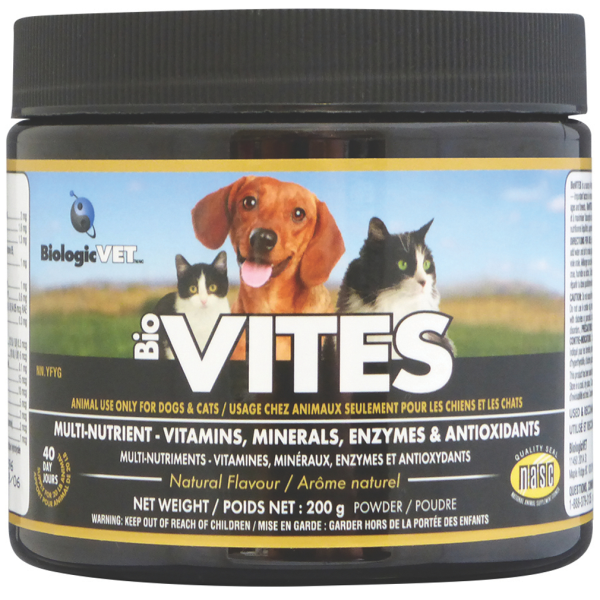 BioVITES Pet Supplement (200g)
2
---
Health Benefit: Vitamins & Minerals

--- BioVITES is a holistic, nutritional supplement that provides a full spectrum of vitamins, minerals, enzymes, prebiotics, lignans, protein, amino acids, and antioxidants; when used regularly, helps to normalize digestion, absorption and metabolism that are important for immune function and general health. Features: Supports healthy development and maintenanceIncreases the nutrient density of each mealEncourages optimal nutrient delivery and absorption Administer orally. Mix one half scoop (2.5 g) per 4.5 kg (10 lb) of body weight to a maximum of 6 scoops daily. Add to raw, moist or dry food. If desired, add water to make a gravy-like paste. For best results, divide between two meals. MEDICINAL INGREDIENTS PER SCOOP (5g)Whey protein concentrate Calcium (carbonate)Magnesium (bisglycinate)Polyphenols (camelliea sinensis, leaf extract)L-TaurineVitamin E (20IU)(d-alpha tocopheryl acetate, Glycine max)Bromelain (24 GDU)DL-MethionineInositolPotassium (chloride)Manganese (HVP* chelate)Protease (15HUT) (Aspergillus oryz)Vitamin C (ascorbic acid)Thiamine (vitamin B1, hydrochloride)Riboflavin (vitamin B2)Niacinamide (vitamin B3)Vitamin B6 (pyridoxine hydrochloride)Pancrelipase (porcine, pancreas)Standardized to contain:Lipase (8 USP/mg) equivalent to: 16 USPAmylase (50 USP/mg) equivalent to: 100 USPProtease (50 USP/mg) equivalent to: 100 USPCholine (bitartrate)Zinc (bisglycinate)D-Pantothenic acid (vitamin B5)Fucus vesiculosus (kelp, whole plant)Molybdenum (HVP* chelate)Iron (bisglycinate)Copper (bisglycinate)Vitamin A (palmitate)(180 IU)Chromium (picolinate)Folate (folic acid)Beta-carotene (10 IU)Selenium (HVP* chelate)Vitamin B12 (cyanocobalamin)Iodine (kelp, laminariales)BiotinVitamin D3 (cholecalciferol) (12 IU)*HVPHydrolysedVegetable ProteinNON-MEDICINAL INGREDIENTS: Certified organic seed cake defatted meal (flax, sunflower, sesame), silicon dioxide, betaineCONTRAINDICATIONS: Do not use in certain dog breeds predisposed to copper toxicity. Not for use in pregnant or lactating animals, animals with diabetes or pancreatic insufficiency, hyperthyroid conditions, stomach ulcers, liver disease, kidney disease or bleeding disorders.What does 旑not for long-term use mean?This purposely vague description is neither clearly defined nor is it a fixed duration of time. It may include a time frame of several days, weeks, months or even years. Health Canada requires the use of this statement on our labels as part of the Interim Notification Program (The Program) for Low-Risk Veterinary Health Products (LRVHP). This statement is summoned when certain ingredients are present in a product, such as enzymes or various herbal extracts. In BioVITES it is the Bromelain that requires the statement.Dietary supplements, such as BiologicVETҒs, are quite safe to take every day. However, it is best to keep in mind that the long-term use of any supplement should be discussed with your trusted veterinarian. They will help evaluate and assess the pros and cons of supplementation based on your animal companions unique and individual needs.
To install this Web App in your iPhone/iPad press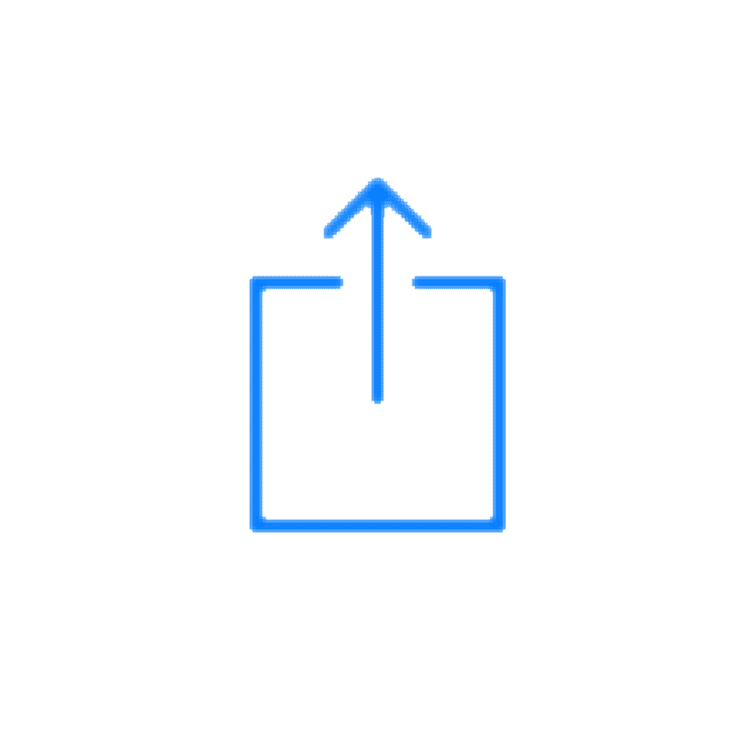 and then Add to Home Screen.