Walk About Unagi Recipe | Cat (100g)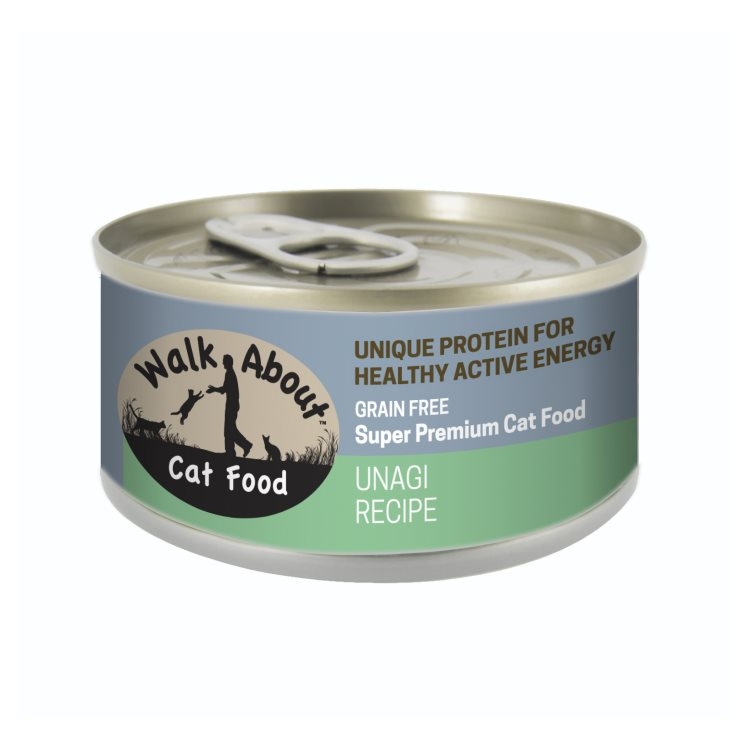 Super Premium Cat Food | Grain Free |  PACKED WITH MEAT PROTEIN
HEALTHY NATURAL BENEFITS
Walk About Cat Food premium blend has been specifically developed to provide the highest feline nutrition for the well being of your cat through all of its life stages.
This unique grain-free, premium meat recipe was formulated to ensure your cat maintains a happy, healthy lifestyle.
NO ARTIFICIAL COLORS, FLAVORS OR PRESERVATIVES
Essential Feline Amino Acid – Contains added Taurine to promote vision, heart, and overall health.
Healthy Digestion– High quality ingredients with optimal nutrients increases palatability and digestion.
Complete and Balanced Nutrition – Formulated to meet the nutritional levels established by AAFCO cat food nutrient profiles for adult cat maintenance.
Ingredients
Unagi, Broth, Ovine Plasma, Brewers Yeast, Calcium Carbonate, Tetrasodium Pyrophosphate, Agar, Cassia, Guar Gum, Potassium Chloride, Vitamin D3, Iodine, Folic Acid, Vitamin 812, Biotin, Vitamin A, Vitamin 86, Vitamin 82, Vitamin B l, Organic Copper, Organic Manganese, Vitamin 85, Organic Selenium, Vitamin E, White Oil, Free Flow Additive, Vitamin 83, Organic Zinc, Organic Iron, Calcium Carbonate, Taurine, Choline Chloride